Motability at Trelawny Citroen
WHAT DOES MOTABILITY OFFER?
People in receipt of the following allowances are eligible to lease a car through the Motability Scheme:
• Higher rate Mobility Component (HRMC) of the Disability Living Allowance (DLA) and the Enhanced Rate of the Motability Component (ERMC) of Personal Independence Payment (PIP).
• War Pensioners' Mobility Supplements (WPMS).
THE MOTABILITY SCHEME OFFERS WORRY FREE MOTORING:
• A new car every three years
• Free Insurance
• Annual car tax
• Full RAC breakdown assistance
• Tyre and windscreen replacement
• Servicing & maintenance
• 60,000 mileage allowance over three years
Motability Offers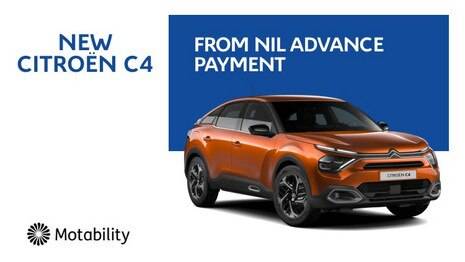 New C4 embody a strong step forward in terms of Citroën design and sets itself apart with the elegance, fluidity and dynamism of a compact hatchback with an aerodynamic shape, refined lines, trademark graphic details and a new front and rear light signature. Plus the strength, character and robustness of an SUV thanks to large alloy wheels, generous and muscular shapes and the 360o protection around the body.
Available from Nil Advance Payment.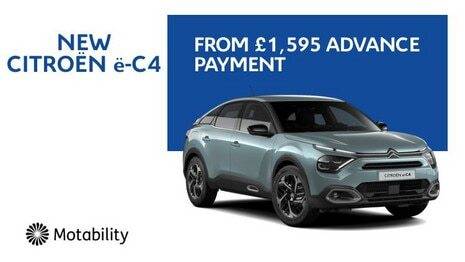 New ë-C4 - 100% ëlectric; it embodies modern, innovative electric mobility, whilst offering exceptional comfort and versatility. New ë-C4 - 100% ëlectric is the definition of mobility in ë-Comfort class. New Citroën ë-C4 - 100% ëlectric allows you to drive in all-electric mode on a daily basis. Enjoy being free from the noise and vibration of road surfaces and from the stress of the outside world.
Available from £1,595 Advance Payment.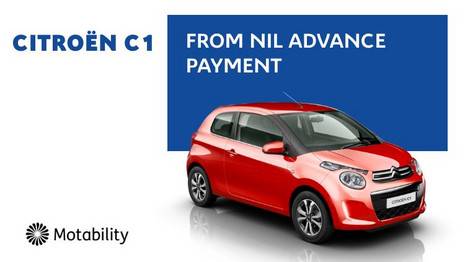 Citroën C1 is made for nipping around the city with complete ease, thanks to its compact dimensions and exceptional handing. With a personality that is both lively and carefree, the 3- or 5-door city car is also available as an open-top version, 'Airscape'.
Available from Nil Advance Payment.
A hatch with a truly inspired look, New Citroën C3 stands out from the crowd thanks to its distinctive and bold design. With the option of 97 exterior colour combinations, each one is unique. When it comes to comfort, New Citroën C3 sets the benchmark with its new Advanced Comfort Seats and supple suspension. It is both modern and connected, and also offers up to 11 driver assistance systems including new Front Parking Assistance.
Available from Nil Advance Payment.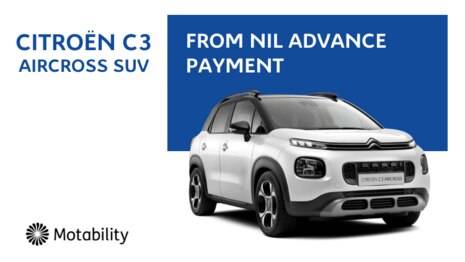 A true compact SUV, Citroën C3 Aircross SUV is ready for all life's adventures, both in the city and out on the open road. Citroën C3 Aircross SUV strikes the perfect balance between a compact city friendly exterior and a spacious interior with up to 520L of boot space and versatile rear seating configuration.
Available from Nil Advance Payment.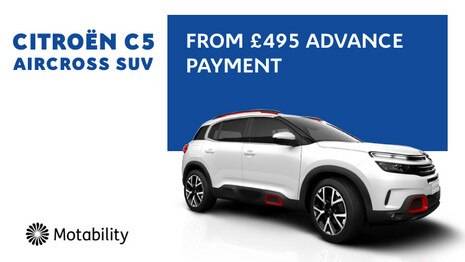 As an ambassador of the Citroën Advanced Comfort® programme, C5 Aircross SUV stands out as the most comfortable SUV in its segment thanks to two exclusive Citroën innovations: suspension with Progressive Hydraulic Cushions® and Advanced Comfort seats. Its three individual, sliding, incline-adjustable and folding rear seats make C5 Aircross SUV the most modular and spacious SUV in its segment. Its boot capacity, varying from 580 to 720 litres, sets a new standard in the segment.
Available from £495 Advance Payment.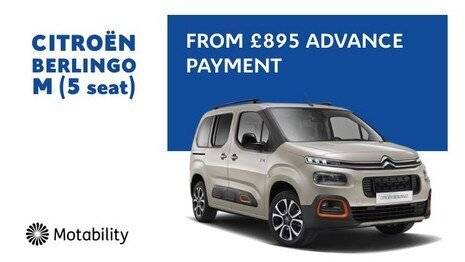 Citroën Berlingo is the ultimate leisure vehicle. Spacious, comfortable and customisable, Citroën Berlingo stands out thanks to its many features: a record amount of free space, exceptional modularity with 3 retractable individual rear seats giving comfortable seating for 5. There's also multiple storage compartments in and around the cabin, plus a new-generation Modutop® multifunctional.
Available from £895 Advance Payment.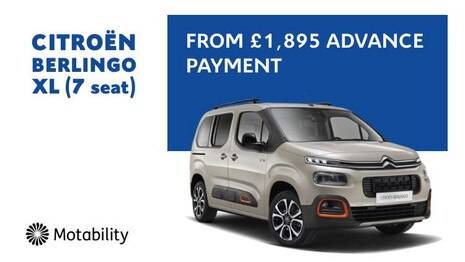 In addition to M, Citroën Berlingo XL can carry up to 7 people in complete comfort. Benefitting from the Citroën Advanced Comfort® programme, Citroën Berlingo offers optimum ride quality, modularity and practicality. Berlingo has a variety of exterior colour combinations, interior ambiances and intelligent technology making it the ultimate leisure vehicle.
Available from £1,895 Advance Payment.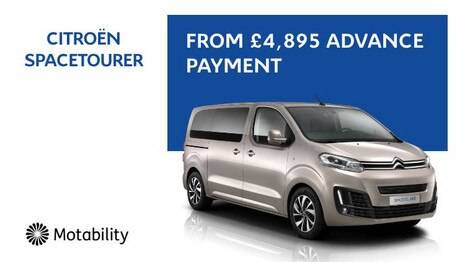 Do you dream of an escape from the mundane? Make it a reality with Citroën SpaceTourer, an MPV that has been designed to ensure you can enjoy life without compromises. Dedicated to leisure, family and friends, it offers a friendly and flexible interior space for all. With a non-aggressive, fluid design, it makes a real impact thanks to a strong presence and comforting robustness.
Available from £4,895 Advance Payment.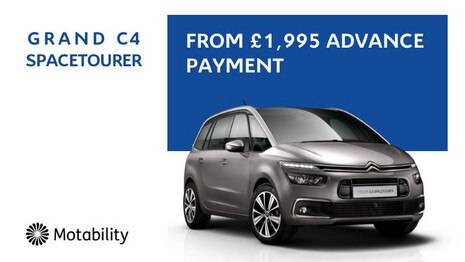 Citroën Grand C4 SpaceTourer knows how to keep the balance between the needs of family motoring and real driving pleasure. Now even more unique, it features a fresh, dynamic front end and a bold new rear chevrons. Life's journeys just gained an extra dash of style and substance.
Available from £1,995 Advance Payment.
CITROËN MOTABILITY DEALERS
There are minimum standards that are rigorously enforced to ensure that choosing a Citroën Motability vehicle is as easy as it can be and provides you with the vehicle you need.

Our Motability Specialists are thoroughly geared up to look after you throughout the 3 years of your Motability car. Our Premier dealers will offer:

• At least 2 accredited, fully trained Motability Sales & After Sales specialists
• The facility to offer a home visit, if required to assist in selecting the appropriate vehicle
• Knowledge of adapted vehicles to suit bespoke mobility needs
• A full wash and vacuum of your Citroën Motability car after all services
• While you wait servicing and MOT test, by appointment for your Citroën Motability car

If you would like us to help you in making your choice, or you have any questions about our Motability price list that we can assist with, then contact a Citroën dealer or call the Citroën Motability Helpline on the number below.